There are four types of concrete!
Concrete that can crack!
Concrete that has cracked!
Concrete that can leak!
Concrete that has leaked!
Truism: This observation is obviously true and says nothing new or even interesting about concrete but if you have a problem and need a solution then:
TALK TO THE DIRECTORS AT FCS CONCRETE REPAIRS.
When does concrete crack and leak?
Shrinkage cracks may occur when water evaporates from the concrete soon after it is layed during the drying process. (that is, the curing process) Hot weather can cause rapid evaporation if curing compound is not properly used to slow the evaporation and cold weather can slow the evaporation process. Fine cracks give the opportunity for water to penetrate the concrete and cause the steel reinforcement to rust and concrete degradation.
Structural cracks when the concrete structure is over-loaded or subject to design flaws will allow water to penetrate the concrete and cause the steel reinforcement to rust leading to concrete degradation.
Concrete cancer cracking when water penetrates into the concrete and causes the internal steel reinforcement to corrode, expand and cracks form from within allowing water to leak through the concrete element.
Concrete cracking when the sub-base is inadequate or a washout occurs allowing water to flow under and through the concrete element.
Soil movement below the sub-base due to natural movement or the expansion and contraction of the underlying clay earth in times of heavy rain or drought allowing water to flow below and washout the concrete element.
Cracking due to freezing conditions followed by thawing which may also cause expansion and contraction and allow water to leak through and below the concrete element.
Hot summers can cause cracking due to expansion of the concrete and allow the ingress of water.
Washouts behind retaining walls may also result in structural cracking and gushing leaks.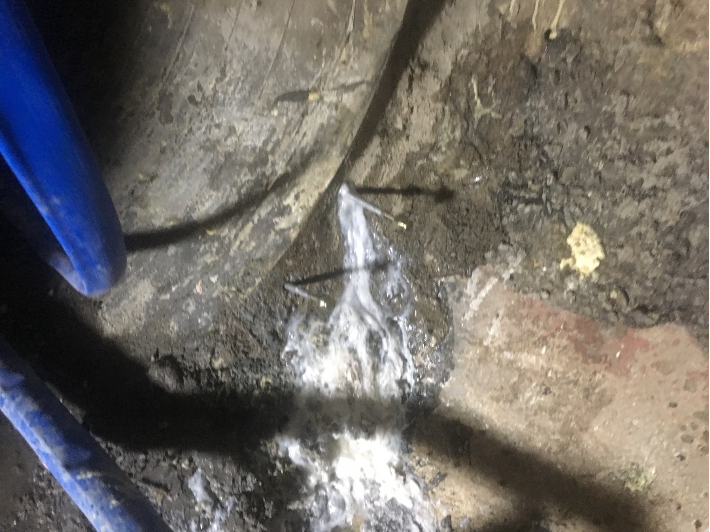 HEADLINE NEWS!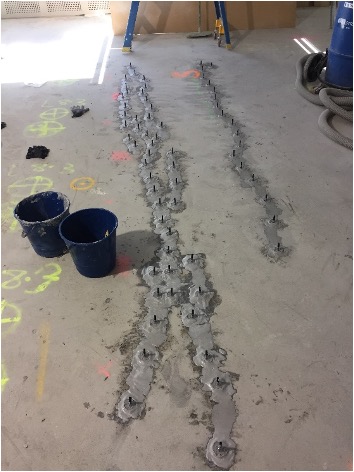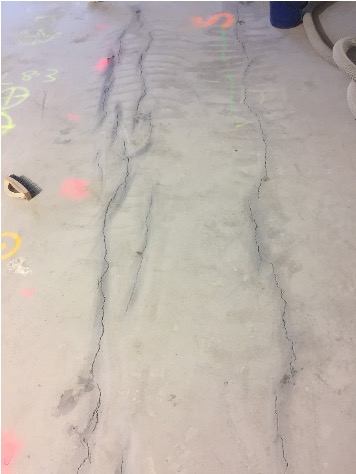 Fortunately, experienced Concrete Repair Contractors like, FCS Concrete Repairs, have the solutions. Experienced tradesmen, high-tech equipment and repair materials, and technical knowledge can combine to provide near permanent solutions to concrete cracking and leaking. Early intervention is also critical in enabling effective repair and cost effective solutions.
What can be done?
Badly damaged concrete can be replaced BUT this can be costly and involves:
Investigation
Demolition
Removal
Replacement
Modern crack injection methods can provide a cost effective alternative solution:
Single component hydrophobic foam can be injected to stop water infiltration and to stop high pressure flowing water and to fill voids behind the structure or joints or cracking in concrete.
Two component hydrophobic rapid setting foam can be injected. This foam is highly reactive, high strength and expands up to ten times when in contact with ground water.
Two component low density foam to fill cavities provides structural strength and flexibility to stabilise strata.
One component water based acrylic joint sealant and gap filler which has low adhesive and compressive strength, but high tear strength.
A combination of cement and water, plus admixes or additives to alter their properties. There are three main types – pure cement mixes (PCMs) composed of cement and water, admixed cement mixes (ACMs) composed of PCM and admixtures, and additive cement mixes (ADCMs) composed of ACM and additives.
Two component, low viscosity, solvent free, moisture insensitive, structural epoxy injection resin used to seal cracks and cavities and forms an effective barrier against the infiltration of water and bonds concrete to restore structural integrity. Doesn't bond as well to wet surfaces.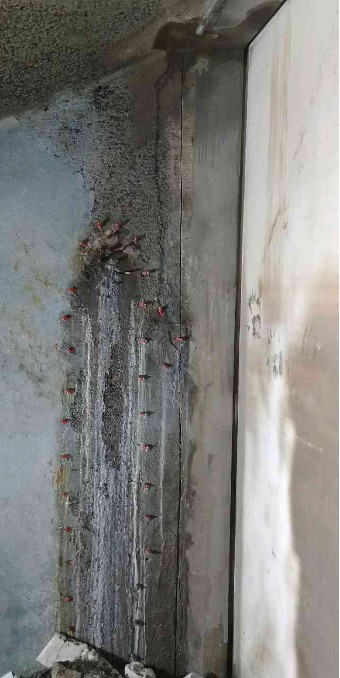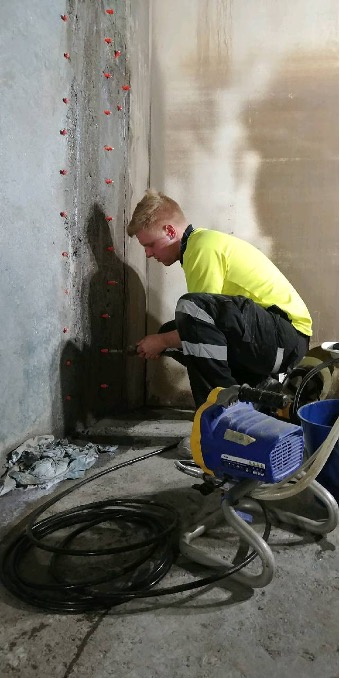 FCS Concrete Repairs has the expertise to investigate, test, diagnose and recommend on the most appropriate and cost effective solution to your concrete cracking and leaking problem.