Carbon fibre reinforced polymer is an extremely strong and very durable material which is applied externally to strengthen concrete structures without the need to demolish and replace the existing structure such as concrete beams, suspended slabs and structural columns.
This is a very cost effective method for structural strengthening where a structure is required to carry increased loads or where the structures design is inadequate.
Carbon fibre is woven into in a matrix of Polymer Resin to form the material and its properties are dependent on the ratio of fibre to polymer as well as the structure of the matrix. This material is very light weight as it has a high strength to weight ratio.
FCS Concrete Repairs are experienced in the application of CFRP plates, strips and wrap to the structural strengthening of building structures.
FCS Concrete Repairs install the CFRP in accordance with the design prepared by Qualified Structural Engineers.
A recent applications of this technology:
Project: Surry Hills
Structural Strengthening of Soffit.
The scope of work was to supply all labour, materials, tools, equipment and materials for the Works associated with the Strengthening Sika CarboDur M Carbon Fibre Strips.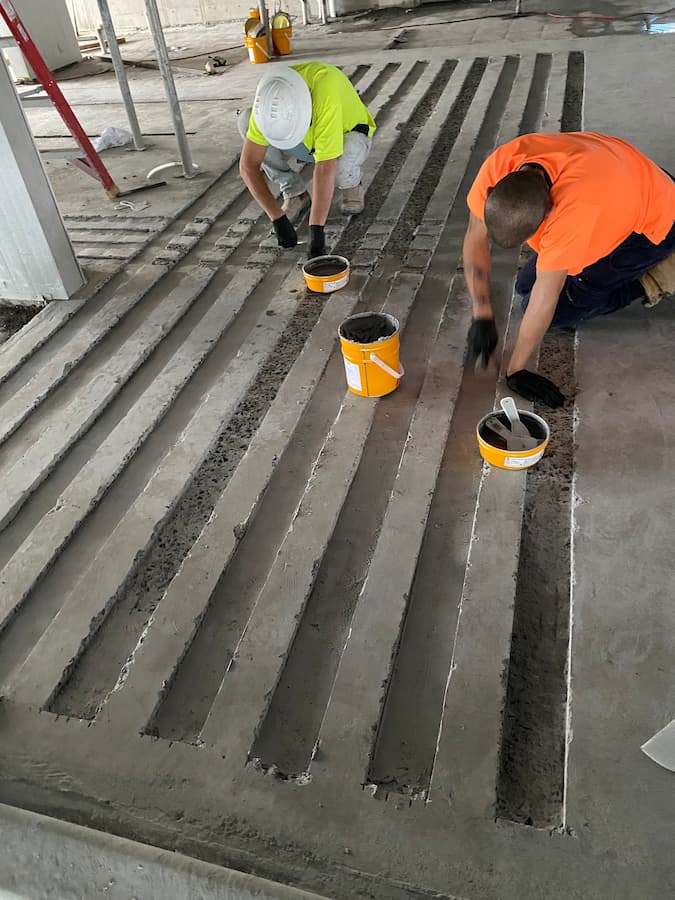 Methodology:
All work and requirements as per Sika CarboDur® Method Statement and PDS.
Preparation Grinding / Blasting surface.
Pull-off Tensile strength testing of the concrete substrate.
Tolerance, surface deviation, level measurement and testing to ensure minimum tolerances required.
The substrate moisture content must be tested and verified.
Plate pull-off testing semi-destructive Quality Control.
High Build epoxy to top of slab. Levelling 0 -10mm.
Remove all Services and Ceiling Tiles and Ceiling Grids, providing unimpeded access.
Protect Completed Product to ensure the Sika CarboDur® is not cut or drilled through or tampered with.
Generally repair all test holes and make good.
Clean and remove overspill, patch and make good, as required.
Conduct Testing and Commissioning.
Product recommended by FCS Concrete Repairs for structural strengthening in this application:
Sika® CarboDur® M
Sika® CarboDur® plates are pultruded carbon fibre reinforced polymer (CFRP) laminates, designed for strengthening concrete, timber, masonry, steel and fibre reinforced polymer structures.
Sika® CarboDur® plates are bonded onto the structure as externally bonded reinforcement using Sikadur®-30 epoxy resin based adhesive for normal applications.
Sikadur 30LP is an epoxy resin based adhesive for elevated temperatures during application and / or service, however lead times do apply call your local Sika office for further information.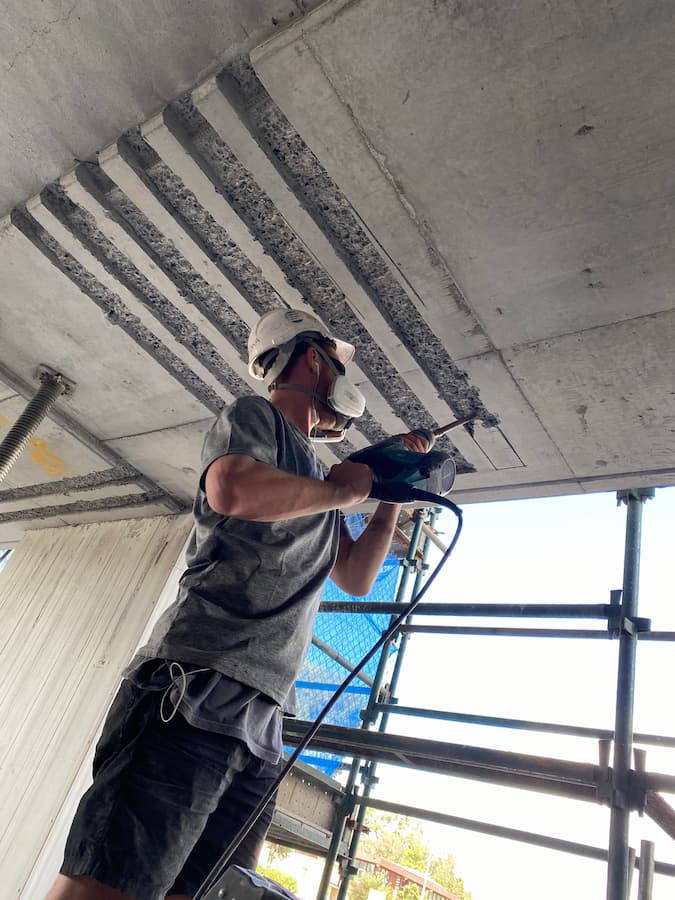 USES:
Sika® CarboDur® M suitably experienced and trained specialist contractors.
Sika® CarboDur® systems are used to improve, increase or repair the performance and resistance of structures for:
Increased Load Carrying Capacity:
Increasing the load capacity of floor slabs, beams and bridge sections
For the installation of heavier machinery
To stabilise vibrating structures
For changes in building use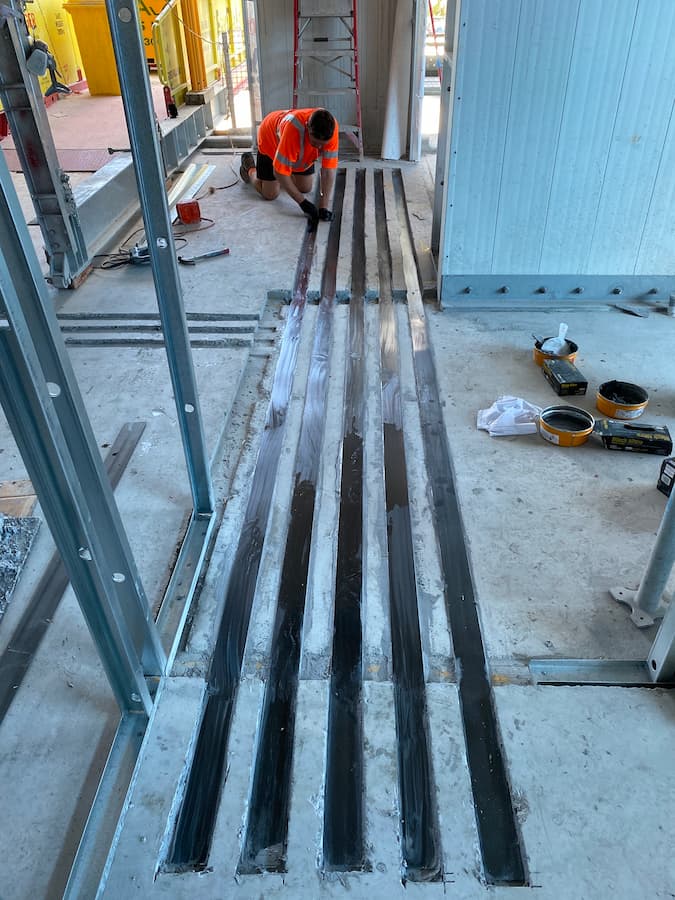 Damage to structural elements due to:
Deterioration of the original construction materials
Steel reinforcement corrosion
Accidents (Vehicle impact, earthquakes, fire)
Improvement of serviceability and durability:
Reduced deflection and crack width
Stress reduction in the steel reinforcement
Improved fatigue resistance
Change of the structural system:
Removal of walls and/or columns
Removal of floor and wall sections to create access / openings
Resistance to possible events:
Increased resistance to earthquakes, impact or explosion etc.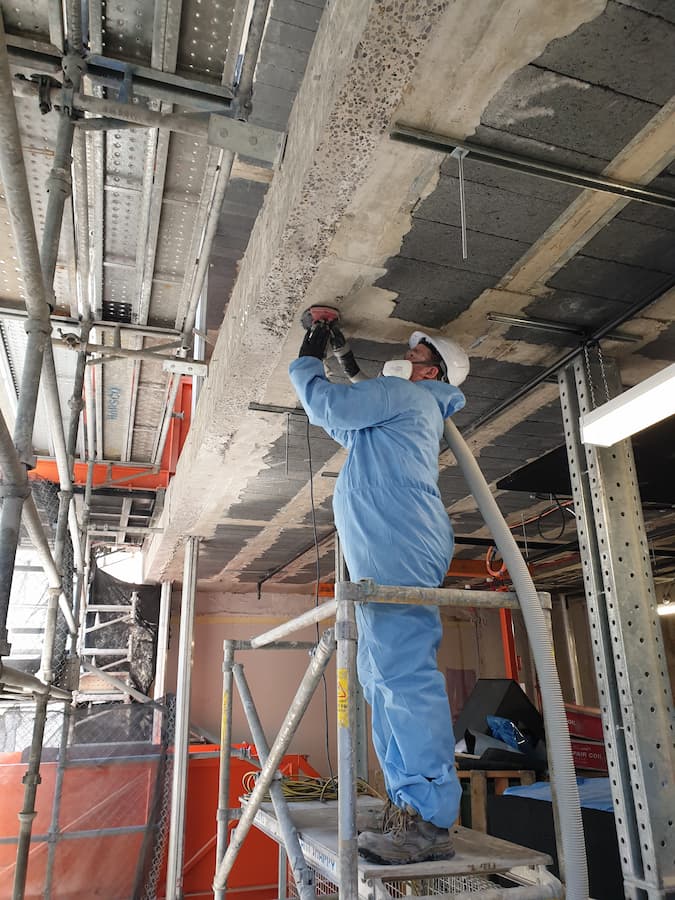 To repair design or construction defects such as:
Insufficient / inadequate reinforcement
Insufficient / inadequate structural depth
CHARACTERISTICS / ADVANTAGES
▪ Combination of very high strength and high stiffness
▪ Non-corroding
▪ Excellent durability and fatigue resistance
▪ Unlimited lengths, no joints required Low system thickness, simple execution of plate intersections or crossings
▪ Easy transportation (rolls) Lightweight, very easy to install, especially overhead (without temporary support)
▪ Minimum preparation of plate, applicable in several layers
▪ Smooth edges without exposed fibres as result of production by pultrusion
▪ Extensive testing and approvals available from many countries worldwide
Call FCS Concrete Repairs for all your structural strengthening requirements.